Good elver harvest good news for the environment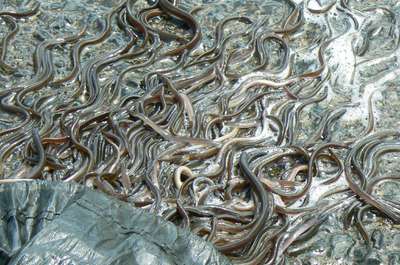 Each year the IFS harvests juvenile eels, known as elvers, from two locations in the State. The harvest is conducted to restock the upper sections of Tasmania's rivers to overcome the barriers to eel migration presented by large dams used for hydro electricity storage. Hydro Tasmania provides funding for the harvest to meet its' environmental objectives.
Eels are an integral part of the native fish fauna of Tasmania and it is important to allow as close to natural quantities of them to inhabit our waterways for biodiversity reasons. Eels play an important role in the freshwater ecosystems and without them a naturally balanced aquatic system would not be easily achieved.
The other purpose of restocking areas is to sustain the commercial eel fishery. This is the only commercial fishery operating in Tasmania's inland waters and supports a modest sized industry of local fishers and processors.
This year's harvest of elvers, by fishing the tail-race below Lake Trevallyn on the Tamar River and trapping them below the Meadowbank Lake dam, has been better than the last few years. This has allowed restocking commitments of 2013 to be fulfilled and to meet the shortfalls of last years restock. The annual harvest can be quite variable with large fluctuations from year to year due to ocean current variation and other environmental factors that are not well understood.