Summer carp catches heating up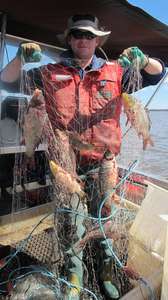 IFS staff on the Carp Management Program have been making the most of the warm, still conditions presented at Lake Sorell. They have been using a variety of techniques in a bid to remove the remaining population of carp from the lake.
The slowly maturing carp have proved difficult to target and catch, as they did not aggregate in the shallows during optimum weather conditions, and have shown no interest in spawning.
Many kilometres of gill nets have been set each day in locations where "Judas" transmitter fish were observed. The gill nets have allowed the team to maintain catch rates through a difficult period of carp maturity and activity. The numbers of carp caught throughout summer are as follows; December- 287, January- 893, and *February- 675. *This is the number caught to February 18.