Cold start to the carp season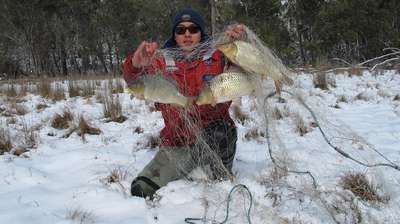 The lead up to the carp spawning season has brought icy and windy conditions, which has drastically slowed carp movement, as well as making difficult targeting and fishing conditions.
The 31 radio tagged transmitter fish currently active in Lake Sorell have been relatively dispersed across the lake, preferring to congregate over the numerous deep rocky reefs. While the carp management team have been placing emphasis on ensuring all of the spawning barriers and fyke nets are all serviced and correctly installed, consistent gill net effort has been placed over the reefs where the transmitter fish are seen to frequent.
A total of 102 carp were caught for October, with only three fish taken in fyke nets set around the margins of the lake, and the rest caught in gill nets set over rocky reefs. It is anticipated that over the next few weeks when the weather begins to heat up, the carp will become more mobile and begin to push closer inshore where the fyke nets and traps will be first to intercept them.