More salmon stocked into Craigbourne Dam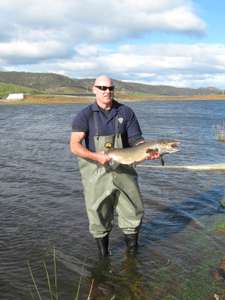 This week (19 & 20 November) the IFS stocked Atlantic salmon into Craigbourne Dam. A total of 710 fish were stocked over the two days. The fish averaged 2.5 kilograms in weight and are all male. Thanks to Saltas Wayatinah hatchery for the donation.
Anglers are reminded that there is a five fish bag limit (all species combined) and no more than two fish can be over 500 mm in length.