Beware - Big Brown Trout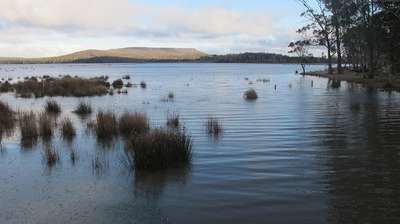 Lake Crescent is brim full and ready for the opening of the brown trout season on 6 August.
There have been some monster fish caught from this lake over the past few years. They are not easy to catch but those that persist and get to know the lake regularly land thumping trout.
The water is flooded into the wetlands that is the feeding grounds for early season trout. Tailing and charging fish should be about at this level and the water in the back of the wetlands is crystal clear making visual fishing a possibility. Be prepared to walk the shore and wade in the marsh looking for the channels and pathways the fish use. Low light conditions are best.
There was a big spawning run up Agnew's Creek during the winter and lots of large fish, in the 5-8kg range, were seen by our officers. We have stocked the lake with an extra 950 adult brown trout from the highlands over winter and these should soon grow big and fat.
The water quality in the lake has improved greatly although it might look that way to the naked eye.  The condition of the trout shows they are not having any difficulty finding food.  This means finding a lure, or big fly, as it's pulled across their nose shouldn't be a problem. The lake is relatively shallow, at around 4 metres at its deepest when full. This means it tends to heat up over summer so early and late season fishing is best.
Lake Crescent opens on Saturday 6 of August 2016 until Sunday 30 April 2017.  You can fish with artificial lures or fly.  There is a bag limit of 5. The minimum length is 300mm and only 2 fish over 500mm.