A very successful Trout Weekend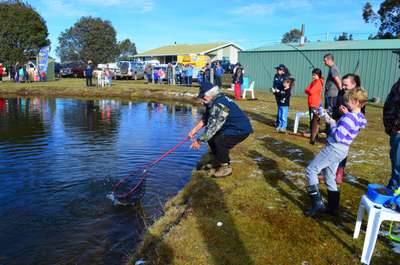 This past weekend at Liawenee the Inland Fisheries Service held their popular annual Trout Weekend and it was the place to be for all things trout.
Across the two days over 3,600 people came to learn the latest tips, buy the latest gear and tell some fishy stories with friends, family and new acquaintances.
The weather was perfect, almost balmy!
On cue hundreds of wild brown trout turned up in the Liawenee Canal for the start of the annual spawning migration and the large crowd enjoyed watching the trout stripping demonstration.
The junior angler's pond proved popular with many of the kids catching a trout to take home for their dinner, some even catching a tagged trout and winning a prize.
The Inland Fisheries team were on hand to have a chat with anglers and all were more than happy to pass on their knowledge and expertise in fisheries management, the wonders of our native freshwater species and angling opportunities next session.
The Devonport Fly Fishing Club assisted anglers improve their fly and lure casting skills with a casting competition which offered great rivalry as to who could cast the furthest.
For the non-angler there were cooking demonstrations, helicopter rides and lots of tasty refreshments, competitions and giveaways.
Thank you to all the volunteers and those who worked so hard for this weekend to be such a success.
Planning has now started for next year's event as has the countdown for the 2016-17 season opening when we can all return to what we love best – to fish in our great Tasmanian waters.