Carp Quarterly Report for July to September 2016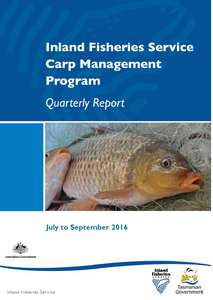 Our staff have been busy over winter preparing for the upcoming carp season. Despite the cold, we kept up the fishing in Lake Sorell. Seven carp were caught in gill nets during July, August and September. We put radio transmitters in four of these and released them back into the lake.
Our Carp Management Program staff also presented at the national conference of the Australian Society for Fish Biology and undertook electrofishing training with the Smith Root company.
Heavy rain this winter and rising lake level have set the scene for a challenging summer of carp management. Keep an eye on our website for update.
For more information about what the carp staff did during winter, please have a look at the CMP Quarterly Report for July to September