Rainbow Trout spawning run promises great rewards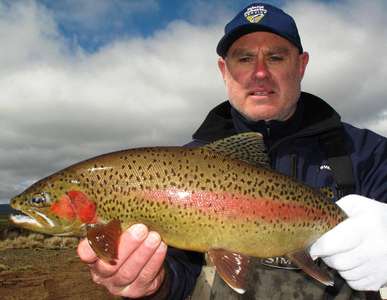 Some of our inland waters are classed as rainbow trout waters.  These have slightly different season dates to our brown trout waters.  They open Saturday, 1 October 2016.
Tasmania's designated rainbow trout waters are:
• Dee Lagoon
• Junction Lake
• Lake Meston
• Lake Rowallan
• Lake Skinner
• Lake Youd
• Mersey River above Lake Rowallan
• River Leven upstream of Loogana Road
• Weld rivers (both North and South)
Many waters in Tasmania hold both brown and rainbow trout. One of these waters is yingina/Great Lake. We monitor the rainbow trout spawning run each year to keep an eye on number, sex, weight and length of fish.  We also help maintain the rainbow population in the lake.
If the rainbows sampled at Liawenee Canal this week are anything to go on anglers are in for some special fishing this season.
Of the 300 fish monitored so far the average weight is 1.3kg and length 490 mm.
They are in fantastic condition and will provide a memorable challenge for the keen angler.
Rainbow trout were introduced to Tasmania from the west coast of North America in 1898.
As always check the fishing code for specific seasons, angling methods and other regulations.