Fishers 4 Fish Habitat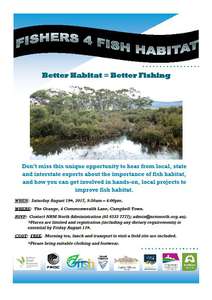 Don't miss this unique opportunity to hear from local, state and interstate experts about the importance of fish habitat, and how you can get involved in hands-on, local projects to improve fish habitat.
WHEN: Saturday August 19th, 2017, 9:30am – 4:00pm.
WHERE: The Grange, 4 Commonwealth Lane, Campbell Town.
RSVP: Contact NRM North Administration (03 6333 7777); admin@nrmnorth.org.au). *Places are limited and registration (including any dietary requirements) is essential by Friday August 11th.
COST: FREE. Morning tea, lunch and transport to visit a field site are included.
*Please bring suitable clothing and footwear.