Everything is in place for a great Trout Weekend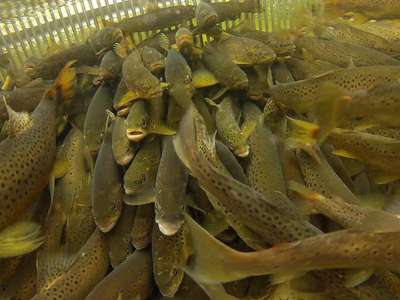 The staff of Inland Fisheries Service (IFS) have been busy preparing for Trout Weekend 2017. This popular event showcases our trout and native freshwater fishery. We will have:
Displays featuring the latest work by the IFS.
Aquariums showcasing fish and other species which inhabit Tasmania's rivers and lakes.
Vendors ready to show and sell their wares.
The junior angling pond is sure to attract younger visitors keen to try their luck.
Most importantly the brown trout have turned up in force in the Liawenee Canal, all in time for a great weekend.
The forecast for the weekend is a little wet and windy for Saturday so maybe wear a coat and bring your gumboots. Sunday is looking better and by Central Highlands standards it's not really going to be that cold, with a top of around 11 degrees each day.  No matter the weather, the fish will be there and so will we!
So come along to Trout Weekend which runs from 10 am to 3 pm this Saturday and Sunday.
For more information including a program and site map click here