Winter fish transfers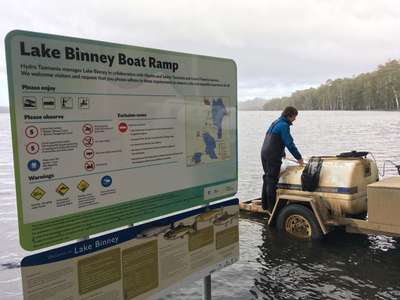 The opening of the 2018-19 brown trout season is fast approaching.
Great excitement surrounds this season's opening, and rightly so. Almost 30 000 adult wild brown trout ran into our migratory fish traps since April. Many have been released into Assisted Lake fisheries.
To compliment the brown trout stockings, we stocked over 13 000 triploid rainbow trout into fisheries around the state.
The Brady's chain of lakes received over 10 000 wild brown trout, mostly from Lake King William. With good facilities and wonderful shore based access, it's worth giving these lakes some attention early in the season.
Penstock Lagoon was topped up with over 3 000 wild brown trout and 1 000 rainbow trout. The Lagoon and is again expected to fish well right through the season. Remember that the daily bag limit is now two fish with a minimum size of 400 mm and only one fish over 500 mm.
Waters in the Central Highlands receiving some quality wild browns include Lake Crescent, Camerons, Bruisers Lagoons, and the Nineteen Lagoons area. Dee Lagoon received 1 000 triploid rainbows that are sure to give anglers a run for their money.
In the south, Lake Dulverton received over 200 brown trout. Craigbourne Dam was stocked with 1 100 wild browns and 1 000 rainbow trout.
On the east coast, we released quality yingina/Great Lake brown trout. Tooms Lake received 1 000, and Lake Leake, 1 100. These waters also received triploid rainbow trout (Tooms Lake - 1 500 and Lake Leake – 2 100).
In the north the popular Four Springs Lake was topped up with 4 039 wild brown trout and 2 100 rainbows. Blackmans Lagoon and Curries River Reservoir both got 600 browns and 200 rainbows. Brushy Lagoon received over 200 quality wild browns and over 300 large rainbow trout.
We gave a new fishery an injection of life in the states northeast. We put 500 triploid rainbow trout into Briseis Hole at Derby. Not far down the road at Pioneer Lake, we released another 500 excellent rainbow trout.
As well as 500 triploid rainbow trout, into the Pet Reservoir, we released 600 wild, fin clipped, brown trout. Into South Riana Dam we released another 400 wild, fin clipped brown trout. These fish are part of a "mark and recapture" in-lake survey. These surveys will help assess the fisheries performance.
A popular early season water in the north west is Lake Kara. It will again attract attention due to 320 large rainbows (some up to 5kg) we released there during the winter.
We wish you all the best for the 2018-19 trout-fishing season opening on Saturday 4 August.