Willow control demonstration on the Tyenna River.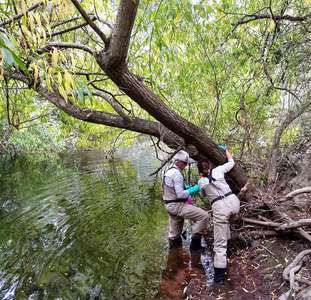 A willow control program on the Tyenna River is in development. The developers are the Derwent Catchment Program, Lanoma Estate at Westerway and the IFS.
The first stage involves follow up works to control willow regrowth at Lanoma Estate. This includes replanting with natives and protecting riparian vegetation with fencing.
The project aims to engage the community. Volunteers can work to assist with willow controls including individual stem control. This means removing willows one at a time using frog friendly herbicide.
To assess different control options there was a demonstration day at Lanoma Estate. Options assessed included drill and fill, frill cutting and cut and paste. The day was well supported by volunteers from the angling community and angling clubs and organisations. Volunteers rolled up their sleeves and gave the control options a go.
The success of the demonstration day shows that volunteers will be able to provide valuable support towards willow control programs in the future.