Guests hooked on Tasmania – Woods Lake and Four Springs Lake foray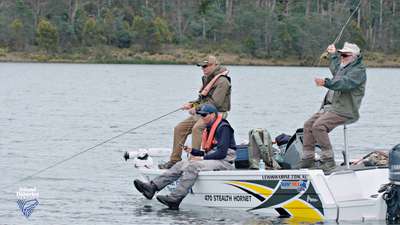 We are one year away from Tasmania being flooded by international anglers as we host the World Fly Fishing Championship 2019. The five venues for the event are Little Pine and Penstock lagoons, Woods Lake and the Meander and Mersey rivers. In the weeks leading up to the event the competing anglers are not permitted to fish the competition waters so you will find them fishing places like Arthurs Lake, Bronte Lagoon, Four Springs Lake and the South Esk River.
Recently a Fly Fishing Expo was held at Clarendon Estate outside of Launceston. There were lots of well known fly fishermen at this well run event. International angler Simon Gawesworth and well known Australian fly caster and author, Peter Morse, were at the event teaching and promoting fly casting and fishing. We took this opportunity to get them out on the water with Inland Fisheries Director John Diggle and staff member, Australian Fly Fishing Champion, Christopher Bassano. Check out this video clip to see what they thought about fishing in Tasmania.