Gone Fishing Day - Licence Free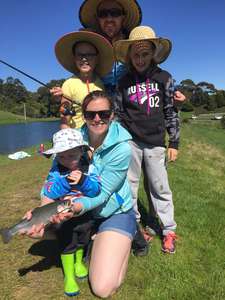 This Sunday is Gone Fishing Day. This is a great opportunity to grab a friend and try trout fishing.
The Inland Fisheries Service is working with Anglers Alliance Tasmania and Sea Fisheries on Gone Fishing Day to bring you a day of all things fishing.
You will not need an angling licence to fish in inland waters (all other angling regulations apply). Get a copy of the Tasmanian Inland Fishing Code for a summary of rules and regulations.
Gone Fishing Day is all about getting outdoors. Drop a line, enjoy time with family and friends on or by the water, and (hopefully) catch a fish or two.
Getting outdoors is great for your physical and mental health. All fishers can agree that there is no such thing as a bad days fishing when those close to you and the glorious places fishing takes you surround you. So why not have a day that recognises and promotes all of these things!
There will be a number of junior angling event happening on Gone Fishing Day. Angling clubs all over the state will be giving kids a great chance to catch a fish in inland waters and Sea Fisheries will be coordinating events around the coast.
We will see you out for Gone Fishing Day, this Sunday 20 October 2019.
Find a Junior Angling event near you:
Northwest
Young Anglers Development, Ulverstone
WHERE: Frombergs Dam, Bass Highway, Ulverstone
TIME: 10am - 2pm
CONTACT: Craig Viney on 0419 370 121 or email craig.viney@sonoco.com
CONTACT: Rob Weeding on 0439 855 786
North Western Fisheries Association
WHERE: Hiscutt Park Pond, Penguin
TIME: 10am – 3pm
CONTACT: Phillip Charlesworth on 0400 512 832
Devonport Anglers Club
WHERE: Taylors Dam (opposite Anvers), Latrobe
TIME: 10am – 3pm
CONTACT: Peter Coventry on 0417 149 489 or email pcoventry2@bigpond.com
North
Longford Fishing Club
WHERE: Longford Fishing Club Dam, Elphinstone Road, Cressy
TIME: 10am – 3pm
CONTACT: Morgan Leath on 0487 766 334 or email morgan@tsdressing.com
CONTACT: Nigel Clarke email jaynenigel26@yahoo.com.au
South
New Norfolk Licensed Anglers Association
WHERE: New Norfolk Anglers Junior Pond, 10 Acre Lane, Bushy Park
TIME: 11am – 2pm
CONTACT: Laurie Harrison on 0428 626 370 or email Trout.2@bigpond.com
CPNTACT: Adam Rice email valleyfishers@gmail.com