Devin Olsen, Team USA, talks about his experience in Tasmania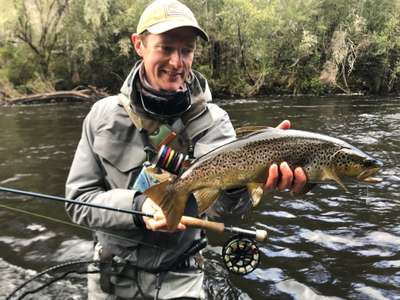 Devin Olsen started fly fishing in Yellowstone at age 9. Within a couple of years, it became an addiction he could not shake and he begged for rides to local streams until he could drive himself to the river. He started competing at age 19 and made Fly Fishing Team USA in 2006 when he was 21 years old. The WFFC19 in Tasmanian was his 11th consecutive time that he has represented USA at the highest level. He has previously earned a bronze individual medal as well as silver and bronze team medals. He finished in the top 20 in Tasmania which is impressive given the wild weather.
Away from competitive fishing he holds a bachelor's degree in Ecology and a master's degree in fisheries science. He worked as a fisheries biologist for several years before starting his company, Tactical Fly Fisher. He has produced two instructional films - Modern Nymphing: European Inspired Techniques and Modern Nymphing Elevated: Beyond the Basics and authored the book Tactical Fly Fishing: Lessons Learned from Competition for All Anglers.
To date, he has sold over 15,000 DVD's across 53 countries. He has a blog subscription list containing 5,000 subscribed anglers and has a further 9,500 followers on Instagram.
He is also a regular contributor to Fin Chaser's magazine in the USA.
Devin enjoys sharing fly fishing techniques he has learned from competitive angling and runs clinics and seminars throughout the year from the east to the west coast of the country. His annual audiences exceed 7,000. He has also produced fly tying clips that can be found on you tube and on his own web site that have viewed by thousand of people across the world.
Devin is the most influential person in competition fly fishing in the United States. Watch this video to see what he had to say about his Tasmanian experience.