No better time to Trout fish Tasmania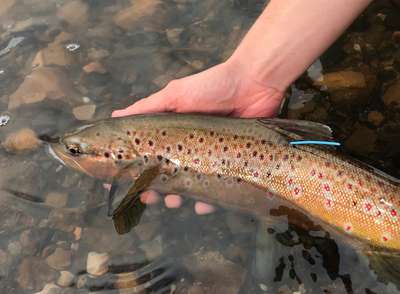 The trout fishing season has started really well. We received our wish and have had some good rainfall on the eastern side of the State to compliment winter rain on the Central Highlands.
As expected Lake Leake continued on from last season and is fishing very well. Lots of anglers headed there for the opening and this has continued all month. Some really good browns and rainbows are being caught. Increased adult brown trout transfers from Liawenee, for the last 4 years, really seems to be working. Previously we were stocking larger numbers of trout fry with little result. Thought is that the Redfin population were feeding on the young trout. With the adult transfers we may have turned the game back in favour of the trout. We are so lucky to have an abundance of wild brown trout on the Central Highlands that enables us to undertake this strategy. The lake has gone from being at fairly low water level at the start of the season but is now spilling. There is going to be some great fishing at this water when the weather warms and the mayflies and beetles get about.
Tooms Lake is filling fast also. It is very dirty but when this settles there will be some great fishing around the margins. There are some good fish in here.
Woods Lake is racing up fast covering freshly flooded ground. Good fishing around the edges with a bait, lure or fly.
Bronte Lagoon fished well in the mild conditions on opening weekend. The water level was down a bit but there were fish to be found around the shore. Anglers using lures and pulling flies out in boats caught some lovely fish.
Four Springs Lake is full and clear. The opening fished well but things have been a bit slower in the bright conditions in the last few weeks. Pick a cloudy day to fish it. The weed beds, which are full of aquatic life that are the food source for fish, are thick and causing some fishers a bit of a problem if they try and fish too deep. Those that know the water are catching some superb brown trout. This lake will also continue to improve as it warms.
Little Pine Lagoon has been fantastic. Those pulling type 3 lines are reporting some fantastic fishing! Lots of strong, fit brown trout. Fish are just starting to tail around the edges and those willing to flog a wet are catching fish on the drop offs.
Talbots Lagoon has started slowly. Those fishing from canoes and kayaks are catching good fish out wide using soft plastics. As it starts to warm watch this water come to life. The mayflies will bring the fish into the edges where you will be able to stalk them with polaroids in the clear water.
Craigbourne Dam is spilling. It is dirty. There must be fish around the flooded edges for those willing to prospect with a bait, lure or fly.
Lake Crescent is starting to get a to a better level where using a boat means you can target the shorelines where the fish will be feeding. Walking the rocky shores fishing along the edge with a dark lure or fly might catch you a monster.
There are a few sea runners starting to poke around in the estuaries. Anglers fishing the Derwent, Leven and Tamar rivers have reported some big fish in the 3-4kg range. Pretty exciting fishing if you can get your fly in front of one.
Northern rivers have been in flood and providing some early season backwater fishing. You know what that means – a worm or a wet fly placed with a plop and all hell breaks loose.
There are too many places to fish at the moment. We can't wait until you are able to come visit us and help us chase all of the fish that are about. It is going to be a super season.
Remember there are 5 tagged $10 000 fish still swimming around out there to be caught in the Tasmanian Tagged Trout promotion.
Don't forget Thousand Lakes Lodge has a special offer for licenced anglers. Check out the offer.
If you have a report of some good fishing please email it to infish@ifs.tas.gov.au
Escape the uncertainty – Trout fish Tasmania.