Fly fishing to hook travellers in new marketing campaign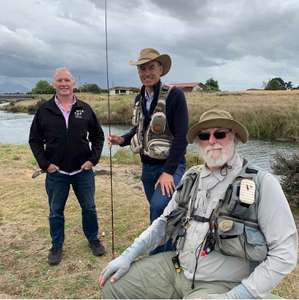 Fly fishing enthusiasts are being enticed to experience the best fishing Tasmania has to offer in a new campaign developed by Tourism Tasmania.

The campaign invites fly fishers to fish like a local in Tasmania and showcases some of the State's top fly fishing spots, as well as sharing local tips and techniques for catching trout in our world class inland fishery.
Tasmania has some of the best fly fishing spots in the world and as a keen angler, I am thrilled to be officially launching this campaign that will encourage anglers to cast a line and see what our State has to offer.
We know that visitors that come to Tasmania to pursue interests such as fly fishing are more likely to stay longer and spend more, which benefits our regional communities and the broader visitor economy. This is more important than ever as we continue to recover from COVID-19.
The campaign is designed to appeal to both male and female fly fishers and includes advertising across a number of digital and print channels that specifically target fishing enthusiasts, enticing them to experience fly fishing in Tasmania.
Our Government strongly supports our world class inland fisheries and the benefits they bring to our regional areas, and this campaign comes after Tasmania hosted the world's best anglers as part of the 39th World Fly Fishing Championship last year.
The campaign forms part of Tourism Tasmania's Unordinary Adventures program which targets visitors who travel to pursue their passions, including fly fishing, mountain biking, golf and walking.
More information on fly fishing in Tasmania can be found here: https://www.discovertasmania.com.au/fly-fishing