Meander River focus of fly fishing marketing campaign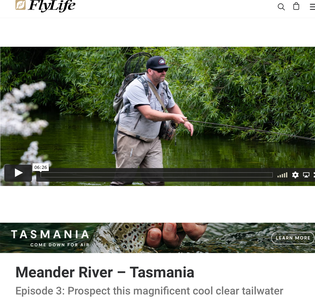 Tourism Tasmania has developed a marketing campaign to build awareness of Tasmania as a world-class fly fishing destination among fly fishing enthusiasts.
The campaign is based around the insight that fly fishing enthusiasts feel like a local in Tasmania, wherever they're from. It invites fly fishers to experience the best the state has to offer by sharing local knowledge of the top fly fishing spots and techniques. The campaign creative includes video content showcasing fly fishing locations and experiences. This video is part of suite of video content produced by FlyLife.

Video description:
The Meander River is a beautiful tailwater that runs out of Huntsman Dam, 'meandering' through forest and then farmland before it meets the South Esk near Launceston. It runs cold and clear all season, even through the heat of summer, and the dry fly fishing can be exceptional.
We join Brendan Turriff as he prospects his way through the fast pocket water of the upper tailwater and down into the long glides of the rural meadows where sipping trout can be seen feeding on the surface of the many pools and runs of this beautiful stretch of water.
Full length film: https://flylife.com.au/videos/meander-river