Four Springs Jetty Upgrade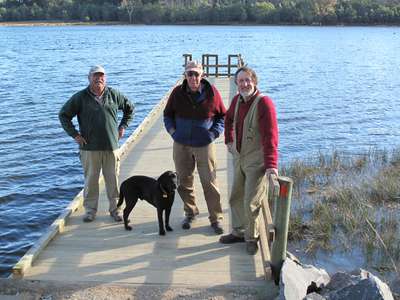 Members of the Westbury Fishing Club spent the weekend of 12-13 May working on the original jetty at Four Springs Lake boat ramp. The club received a grant from the Meander Valley Council to upgrade and refurbish the jetty to make it suitable as a fishing platform that can be used by anglers with a disability. The project has been supported by the IFS.
Work included removing the old decking material and handrail, installing a number of new handrail posts, fitting a new deck and constructing new handrails with openings for anglers in wheelchairs and junior anglers.
The project will be enhanced with the installation of a picnic table and improvements to the access path before the opening of the 2012-13 trout fishing season.
The upgrade compliments the extension to the boat ramp and the construction of a new landing for boating anglers on the southern side of the ramp, which were completed by Marine and Safety Tasmania in 2011.
It is envisaged that the fishing jetty will be used by anglers with a disability, juniors and families seeking easy access to the water and will provide increased amenity for visitors to the popular Four Springs reserve.
The Westbury Fishing Club is to be congratulated for their efforts in the upgrading of the jetty the result of which is a very worthwhile enhancement to fishing opportunities for anglers with a disability in the Meander Valley region.