Results from Day One of the Commonwealth Fly Fishing Championships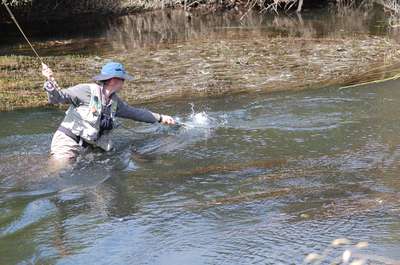 The first day was tough fishing on the lakes at Arthurs Lake, Woods Lake and Little Pine Lagoon with many of the competitors unable to land a fish during the two three hour sessions. Those who had drawn the river beats on the Meander and South Esk rivers fared better with most anglers catching fish. Small dry flies were most productive on the rivers in the morning when the conditions were calm and warm. The wind picked up considerably by the afternoon and grasshopper patterns dominated on the South Esk while nymphs were more effective in the Meander. Amongst the lakes, Little Pine Lagoon sorted the field out with only a handful of competitors catching fish during the two sessions. Arthurs Lake also tested the international competitors and the sunny conditions made fishing at Woods Lake difficult.
The top ten anglers yesterday were Christopher Bassano (Aus Gold), Tim McClew (NZ Silver), Campbell Baird (N.Ire), Brian Hughes (Aus Green), Nigel Juby (NZ Silver), Craig Carey (Aus Gold), Vern Barby (Aus Green), Lubin Pfeiffer (Aus Green), David Chalmers (Scot) and Adrian Leite (S. Africa). 
Despite the fact that the competitors take the Championships very seriously when fishing, there is much more to the event than winning a medal. The Commonwealths are known as the 'friendly competition' and many lifelong friendships are formed over the duration of the event. For instance, renowned expert English angler John Horsey met Malcolm Crosse, chief organiser of the Tasmanian Commonwealths when Malcolm was the controller on a beat fished by John in the 1980's. An immediate bond was formed between the two and they have been great friends ever since.
The Commonwealth Championships will continue at the same five venues today and tomorrow morning, and results will be announced at the Closing Ceremony at the Country Club Casino Banquet Hall. There is also a celebrity fly fishing competition in the morning and a fly fishing expo in the afternoon in the grounds of the Country Club Tasmania, which is a major sponsor of the event. The expo is open to all.