Large rainbow trout and Atlantic salmon stocked into Craigbourne Dam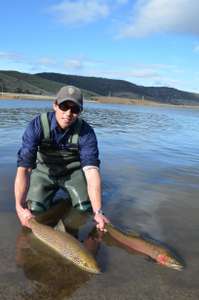 On the 26 July 2013, 150 Atlantic salmon and 150 rainbow trout were stocked into Craigbourne Dam, courtesy of Huon Aquaculture's Springfield Hatcheries. These trophy-sized fish ranged from 2 to 4 kg in weight, and were in exceptional condition. Fish of these size put up a tough and exciting fight when caught, and quite often become airborne when first hooked.

Please remember that there is a five fish daily bag limit with only two fish over 600 mm permitted to be taken.

Note that Craigbourne Dam is open from one hour prior to sunrise and closes one hour after sunset (newspaper times for sunrise and sunset). IFS officers will be actively enforcing the regulations so that everyone can enjoy this opportunity.