The 2013 Tasmanian Trout and Outdoor Expo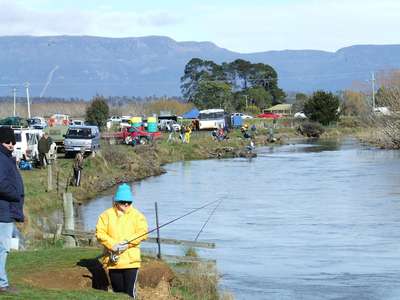 The 9th Annual Bendigo Bank/LAFM 2013 Tasmanian Trout and Outdoor Expo is on this weekend from Saturday 21st to Sunday 22nd September. Gates open at 8am and close at 4pm.
At Brumby's Creek Cressy the annual fishing competition will be held. Catch Travis the tagged rainbow trout and win $10,000.00 or win the fishing pack draw valued at over $2000. Plus other great prizes to be won throughout the weekend including a Guided fishing tour donated by Gary France at Trout Territory..
Fishing Competition Entry Fees
Adults – $10 daily or $15 for weekend, under 14's – $5 Daily $8 for the weekend and onlooker's – Free entry

Registration tickets can be purchased at: CH Smith Marine – Petrarch's – Mitre 10 Longford – Cressy Newsagency or at the gate.Fishing license free weekend!
Sponsors: Bendigo Bank, LAFM, Petuna Sea Foods, Inland Fisheries, Hydro Tasmania, Northern Midlands Council, Foot and Playsted, CH Smith Marine, TasTAFE (Design & Digital Media).