The new trout season approaches - plenty of fish out there to catch!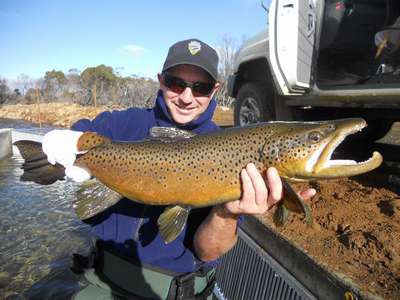 This is the time of year many anglers look forward to, opening of a new angling season. Season 2014/15 opens Saturday 2nd August 2014. So many are asking where is the best place to go?
This year the IFS has built new traps in the Central Highlands at Arthurs Lake. What this means to anglers is that there have been a lot more adult brown trout transferred to other water than previous years. Rather than waiting for fry to grow to takeable sized fish (minimum size for waters is 220 mm or 300 mm in most fisheries) these adults are ready to catch with all those transferred greater than 220 mm and most greater than 300 mm in length.
Fisheries that have received the most benefits from these developments are; Bradys Lake with just under 10,000 stocked, Four Springs Lake with 2,700 stocked, Craigbourne Dam with 4,000 stocked, Tooms Lake with 2,300 stocked and Lake Leake with 1,800 stocked. There are many others that have received adult brown trout, as the list below shows.
Penstock Lagoon was stocked with 2,000 adult brown trout that have been adipose fin clipped. This was to estimate the size of the brown trout population there but also provides some extra stocks for anglers to target opening weekend.
During May to July period Lake Barrington, Craigbourne Dam and Brushy Lagoon all received Atlantic salmon in the 2-6 kg range. Craigbourne Dam and Lake Barrington also received some big rainbow trout averaging 2.5 kg. Lake Kara is planned to receive Atlantic salmon and adult rainbow trout prior to the season opening, watch this website for details. It is also worth noting that Lake Kara was stocked with 550 brown trout which will further encourage northwest coast anglers to visit on opening weekend.
Tight lines everyone, this season should be a ripper!
Adult brown trout stocking January - July 2014
| | | | | | |
| --- | --- | --- | --- | --- | --- |
| Fishery | Date | Number | | | |
| Bradys Lake | Jun-14 | 9,850 | | | |
| Break O Day River | Jul-14 | 500 | | | |
| Bruisers Lagoon | May-14 | 50 | | | |
| Brushy Lagoon | Jul-14 | 1,510 | | | |
| Camerons Lagoon | May-14 | 50 | | | |
| Carters Lake | May-14 | 100 | | | |
| Craigbourne Dam | Jun-14 | 4,000 | | | |
| Curries River Reservoir | Jul-14 | 400 | | | |
| Four Springs Lake | Jun-14 | 2,700 | | | |
| Lake Botsford | May-14 | 100 | | | |
| Lake Dulverton | May-14 | 208 | | | |
| Lake Duncan | May-14 | 70 | | | |
| Lake Leake | Jun-14 | 1,855 | | | |
| Lake Lynch | May-14 | 70 | | | |
| Lake Kara | July-14 | 550 | | | |
| Lake Paget | May-14 | 50 | | | |
| Meadowbank Lake | Jul-14 | 1,500 | | | |
| Mersey River | Jun-14 | 400 | | | |
| Pawleena Lagoon | Jul-14 | 200 | | | |
| Penstock Lagoon | Jun-14 | 2,000 | | | |
| Pet Dam | Jun-14 | 400 | | | |
| River Leven | Jul-14 | 400 | | | |
| Rocky Lagoon | May-14 | 50 | | | |
| Second Lagoon | May-14 | 25 | | | |
| Tooms Lake | May-14 | 2,305 | | | |
All fish are wild, harvested from the spawning streams of the Central Highlands