Celebrations of the 150 years since the first trout hatched in Tasmania - Salmon Ponds 3 & 4 May 2014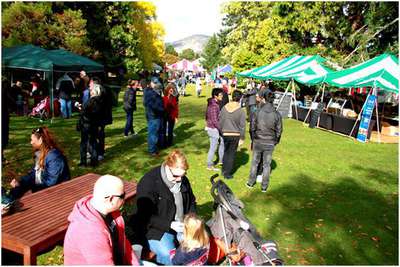 On Saturday and Sunday the 3rd and 4th May 2014 the celebration of the first hatching of trout was held at the Salmon Ponds where it occurred 150 years earlier. The weekend event was jointly organised by the lessees of the Salmon Ponds tourist operations Nekon Pty Ltd and the Inland Fisheries Service. In addition the owners of the adjoining property "Redlands" which was from where the Salmon Ponds originated participated in the event by offering tours of the historic property.

A reception was held on the Saturday afternoon attended by key members of the angling community to acknowledge the event. The Inland Fisheries Service launched memorabilia to commemorate the occasion and also its Ford Ranger promotion for the 2014-2015 angling season. Chris Wisby from ABC radio broadcast from the Salmon Ponds on the Sunday morning.

Free childrens activities such as face painting and entertainment were held and an array of stalls presented the finest of the Derwent Valley's wines, beers and produce. Approximately 4,000 people attended in cool but fine and sunny weather conditions.