Prosecution of lobster poachers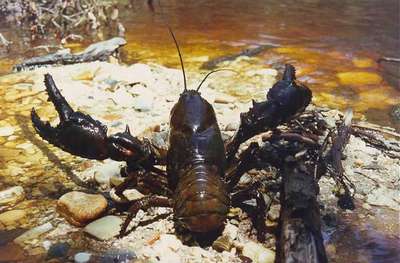 As a result of a joint Inland Fisheries Service/ Parks and Wildlife Service surveillance operation on the Emu River two people were convicted of taking and possessing giant freshwater crayfish in the Burnie Magistrates Court on 4 November 2014. After pleading guilty one offender was fined $1,510 and $78.44 in costs.  The second offender was jointly charged and was fined $560 and $78.44 in costs.
Giant freshwater crayfish (Astacopsis gouldi) are listed as 'vulnerable' under the Commonwealth's Endangered Species Protection Act 1992 and the Tasmanian Threatened Species Protection Act 1995.They are a 'protected fish' under the Inland Fisheries Act 1995.
Prior to the banning of fishing in Tasmania in January 1998, records indicate there was a wide scale decline in the population numbers throughout its range. Moreover, there was a marked decline in the number of large reproductively mature individuals. This was explicitly linked to the removal of larger adult specimens that were targeted by fishers.
Stephen Hepworth – Manager Compliance and Operations