AMC students and university graduates join the fight to eradicate carp from Lake Sorell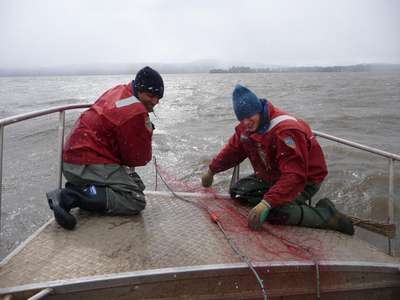 The Inland Fisheries Service (IFS) receives regular requests from schools, universities, and interested graduates looking for work experience in the freshwater fisheries field. The Carp Management Program (CMP) is especially sought after, as the work the students are involved in is very diverse. Over the past few months we have had numerous students from the Australian Maritime College volunteer with the program, where they were involved in a range of activities. These include repairing barrier nets on Lake Sorell, tracking tagged transmitter carp, assisting in the surgical implantation of radio transmitters into carp, setting gill nets/fyke nets, and staging the gonads of carp.
Nick Boucher is a student from the Australian Maritime College who has been studying a Bachelor of Applied Sciences majoring in Fisheries Management. He approached the Inland Fisheries Service, in particular the CMP in order to fulfil the work placement component of the unit "Practicum in the Marine Environment". In conjunction with this, he is using the hours gained on the work vessels to use as sea service in gaining the AMSA Coxswains Grade 2 Near Coastal certification.
Raihan Mahmud studied at the Shahjalal University of Science and Technology in Bangladesh, who graduated with a Bachelor of Science majoring in Genetic engineering and biotechnology, as well as a Masters of Science in Genetic engineering and biotechnology. He contacted the IFS and CMP as a prospective student looking at starting a PhD project on "The characterisation and aetiology of jelly-like gonad syndrome in the carp Cyprinus carpio". Certain individuals of carp in Lake Sorell have been observed to exhibit a jelly-like abnormality in the gonads. Although the affected fish do not show any apparent external deformities, the condition of the gonad itself exhibits gross morphological diversity and the fish are reproductively unviable (i.e. sterile). The causes behind this condition are still unknown. A clear understanding of the condition and its causes may lead to the development of a new biological pest fish control method.
Both Nick and Raihan will undertake casual employment over the peak carp season from October through till February, and this illustrates the opportunities provided to a range of students and university graduates all around the world!
By Jonah Yick