Come to the Cressy Trout Expo this weekend - 20 and 21 September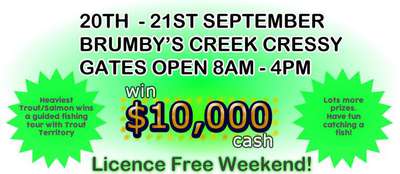 Inland Fisheries as a major sponsor will be at the Cressy Trout Expo this coming weekend.  Look out for our "trout" car and come and have a chat with us to find out how you can win a brand new Ford Ranger by purchasing a full or five season licence this year.  We will also have on hand the latest anglers access brochures, a lets go fishing booklet for the kids and information on our 150th celebrations memorabilia.

This season there has never been a better time to go fishing with high lake water levels as a result of three seasons of above average rain and the significant stocking we have just done with the relocation of 30,000 adult brown trout to Bradys, Four Springs, Penstock, Tooms and Lake Leake.  Not to mention all the new infrastructure work including the upgrade of Dee Lagoon car park and removal of navigation hazards and the new dual lane boat ramp and pontoon at Bradys Lake

The Cressy Trout Expo is held at Brumby's Creek between weirs 2 and 3 – The gates open at 7:00 am each day of the fishing competition and the event starts at 8:00 am.  Come and say hello.