First time full season adult licence holder gets his prize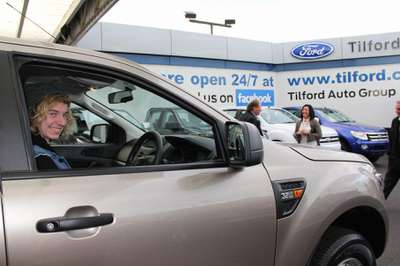 After being announced by the Minister for Primary Industries and Water, Jeremy Rockliff at Trout Weekend on the 16th of May, the winner of the Ford Ranger licence promotion Bailey Cashion was presented with his prize on the 26th of May.
The promotion was the culmination of the 150 year Celebration of the first hatching of trout at the Salmon Ponds Plenty on the 4 May 1864. All full season and five season licence holders in 2014-2015 were automatically eligible for the draw. Bailey was selected by a computerised random number generator from approximately 20,000 eligible licence holders. A number of independent persons were present during the draw including Stephen Mackey General Manager of the Derwent Valley Council.
Bailey was a first time full season adult licence holder having upgraded from a junior licence the year before.