IFS Staff train in electrofishing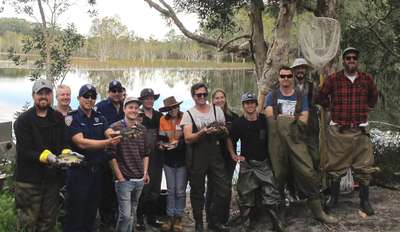 In July, Jonah, Brock, and Chris from our Carp Management Program (CMP) attended a training course in electrofishing.
IFS uses electrofishing to catch carp in shallow water and to herd them into gill nets set sticking out from the shore. We also use it for sampling trout, native fish and pest fish.
Fourteen people attended the training.  They came from a range of departments around the country. Patrick Cooney, the Director of Electrofishing Science for Smith-Root, ran the training course. Smith-Root make the electrofishing equipment we use.
The first day of training was in the class room.  We learnt the science behind electrofishing, safe equipment usage and how to use the equipment as effectively as possible, causing little harm to the fish. The second day was at a small lagoon in Port Stephens. We tried out the techniques we'd learnt in the classroom.
Our staff were already very good at electrofishing. But the training course gave them the chance to lean more.  They learned more about
troubleshooting in the field,
improved use
the essentials behind electrofishing,
accuracy in reporting what they find.
Thanks to Soldiers Point Marine Centre at Port Stephens, NSW who organised the training.