Rainbow trout spawning run results for 2016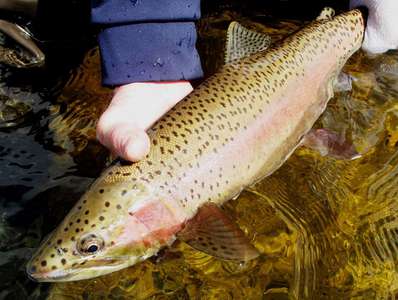 We monitor the spawning run of the rainbow trout at yingina/Great Lake to enhanced natural recruitment and keep an eye on the population.
We do this by using dedicated spawning channels at Liawenee, the "Zig Zags" and the long channel that flows into the trap from the main canal. The trap at Sandbanks Creek, on the north east shore of yingina/Great Lake, also allows exclusive access for rainbow trout.
This year a total of 587 rainbow trout entered the Liawenee trap. We placed 316 in the Zig Zags (173 females and 143 males). 201 were placed in the long channel (112 females and 90 males). 70 extra males were returned to the Liawenee canal.
The monitoring of the spawning run started in late August and has now drawn to a close. The Liawenee trap was opened on 5 Oct to let any late fish to push into the long channel to spawn naturally.
And the Sandbanks knife gate was also opened on 5 October to let small numbers of rainbow migrate into the main river to naturally spawn. Regular checks below the weir during the season revealed no concentration of fish to warrant trapping.
The screens were pulled from the Zig Zags on 8 October to allow fish to drop back to the main water body post spawning at their leisure.
Water flow to the Zig Zags and long channel from the Liawenee canal will be maintained and monitored to ensure egg and fry welfare over the coming months.