Salmon Ponds fishing is now better than ever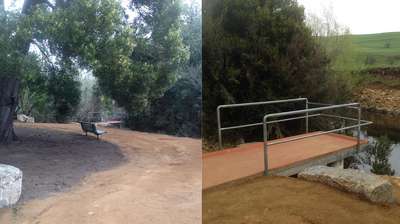 We have not only fixed, but improved, the disabled fishing platforms and surrounding area at the Salmon Ponds.
The winter floods cause a lot of damage making the area unusable. We had to remove major log jams in the river and completely restore the space around the platforms.  Rocks left by the flood had made it completely inaccessible.
Tim Jenkins, who owns the adjoining property, did the work. It is such an improvement that there are now additional fishing opportunities and the general amenity of the area is so much better.
The grass will be replanted this week and the area will be in top condition before the busy tourist season.