Media Release: Notice of closure of Lake Lynch in the Central Highlands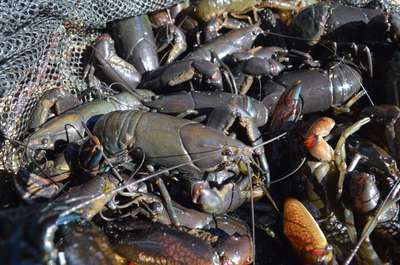 The Inland Fisheries Service is reminding Tasmanians it is illegal to move, possess, import or release Mainland yabbies (Cherax destructor) into waterways following the recent detection of the introduced species in a new area.
A small artificial waterbody in the Central Highlands will be closed for a period of time to allow the Inland Fisheries Service (IFS) to manage an established population of the introduced pest.
The pond, commonly known as Lake Lynch, was created by a disused quarry and is situated on the southern side of Poatina Road, near Arthurs Lake.
The mainland yabbie was first found in Tasmania more than 30 years ago. It is a burrowing crayfish and is known for breeding at a fast rate, weakening earth dams, lowering water quality and competing with native crayfish.
Director of the IFS John Diggle says it is considered a noxious species and is a Controlled Fish under the Inland Fisheries Act 1995.
"This species has been found in other areas of the state over the past three decades. This is the first established population found in the Central Highlands which is why it is important for us to act at this site now to reduce the risk of further movement in this area," Mr Diggle said.
"Unfortunately, their increased distribution is being helped by people moving them in to new waterways – unaware of their potential impacts.
"Mainland yabbies can occur in a wide variety of natural and artificial habitats including creeks, rivers, lakes, swamps, farm dams and irrigation channels.
"They are known to form large populations quickly under Tasmanian conditions and have the potential to compete with, and carry disease and parasites harmful to native crayfish."
The IFS was alerted by a report from a member of the public.
Mr Diggle said the IFS is managing the introduced pest by enforcing the controlled fish provisions under the Inland Fisheries Act 1995 and by educating anglers of the risk posed by the pest species.
"Signs will be erected at Lake Lynch and a public notice will appear in all three Tasmanian newspapers this Saturday (18 March) advising of Lake Lynch's closure," Mr Diggle said.
"We thank members of the public for providing reports and we remind everyone that fisheries compliance officers conduct on-the-spot inspections across the state."
The Inland Fisheries Service requests that any information relating to the possession of controlled fish, the transfer of fish around the states waters, or any other illegal activities be reported as soon as possible to Manager, Compliance and Operations on 0438 338 530.
Lake Lynch is closed below its high water mark and access will be restricted from Saturday 18th of March 2017.
More information about the Mainland yabbie Cherax destructor is available on the IFS website:
http://www.ifs.tas.gov.au/about-us/fishery-management/environment-and-conservation/pest-fish