West Coast Rivers: Now is the time!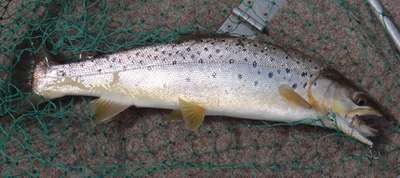 The whitebait is currently running very thick on the west coast of the state. To trout fishermen, this means one thing….. Sea Runners!
We have had numerous reports of big schools of whitebait migrating upstream in the Arthur, Henty, Little Henty and Pieman rivers. These huge schools of bait are being hunted by sea run trout, with shoals breaking the surface as they are chased.
Sea run brown trout are known to grow to incredibly large sizes. They are extremely well conditioned fish that are silver in colour and are strong fighters.
According to one report, a massive 14lb brown trout was taken from the Arthur River in the past fortnight. Good fish have also been reported from the Pieman and Henty rivers.
If you want to catch a west coast sea runner, then now is the time. Make the most of the strong bait runs that are currently taking place. These runs are likely to continue for at least a couple of weeks, as long as a big rainfall does not occur which will push the bait back out to sea.