A wrap up of festive season fishing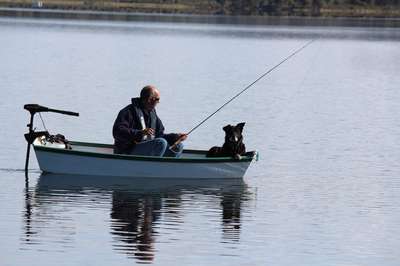 Christmas/New Year saw many anglers heading to the Central Highlands. Although the conditions were windy at times, anglers reported great catches from a number of waters.
Anglers trolling lead lines on yingina/Great Lake took bags of up to 10 fish. Green and gold cobra lures worked well, as did frog pattern flatfish lures.
Arthurs Lake fished well. Fly and lure anglers reported good catches of strong healthy fish from the shore.
As always, Woods Lake gave up some nice fish. Lure anglers seemed to have the most success in the middle of the lake. Fly anglers took some nice fish on dry flies from the shallows in the South West corner.
Anglers at Bronte Lagoon trolling cobra lures took good bags of fish. Nearby, the Bradys Chain of lakes was quiet. Pine Tier Lagoon produced many fish. One group of anglers, fishing with grasshoppers for bait, reported over 80 fish taken in three days.
Penstock Lagoon fished very well. Anglers reported good dun hatches even on the roughest of days. Little Pine Lagoon also saw excellent dun hatches.
Great fishing was reported from the Nineteen Lagoons area, with polaroiding available on the sunny days. Tailing fish were reported during low light conditions.
In all Fisheries Officers inspected 332 angling licences and 75 boats during the period. Twenty-two infringement notices were issued for a range of offences under Inland Fisheries and MAST legislation. By far the biggest ongoing issue at our inland waters is the failure to wear life jacket/personal floatation device (PFD). Given the fatalities that have occurred on inland waters over the past few years, there is zero tolerance for failing to wear a PFD.
Happy new year to all anglers from all of us at IFS! Let's hope the fantastic fishing experienced over the Christmas/New Year period continues throughout the year!