Pond repairs at Salmon Ponds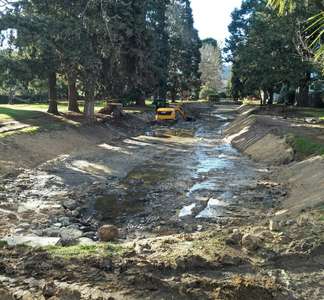 Clay has been imported and placed to stop erosion of the banks in the Long Pond at the Salmon Ponds commenced.
The Long Pond is the feature pond when you enter the historic gardens and is known for its display of large rainbow trout up to 5kg. It was starting to show signs of wear with the banks becoming undercut over many years. This erosion had also resulted in the pond becoming shallower in depth as the clay from the edges had settled in its base.
The sides of the pond are now being repacked with fresh clay and the centre of the ponds is being dug deeper. This will not only ensure the continued stability of its banks but will also increase the water volume and improve water flow through the pond which is important over the hot summer period.
The Salmon Ponds are where the first brown trout hatched in the southern hemisphere on 4 May 1864. This was the start of our wonderful trout fishery. It is a very popular location and is open to the public daily.