One down four to go - 40k still up for grabs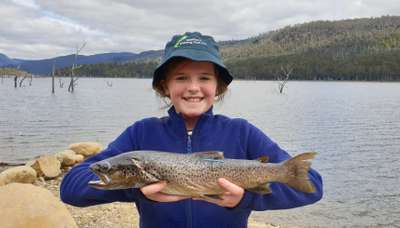 There are 4 tagged trout, each worth $10 000, remaining to be caught in the Tasmanian Tagged Trout Promotion. The Lake Rowallan fish was caught by young Fiona Batterham but there is a tagged fish in each of Arthurs Lake, Lake Burbury, yingina / Great Lake and Lake Pedder still to be caught. So why not buy a trout licence, take a mate and go trout fishing over the summer break.
The tags are blue and have unique identifying details.
Each tag is worth $10 000 to the angler that returns the fish to the Inland Fisheries Service (* conditions apply).