Willow control on the Tyenna River– a tribute to the Clark Family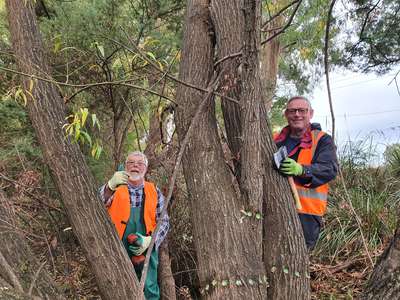 Another 500m section of the Tyenna River at Westerway has been transformed! Following on from efforts of local residents and the Tyenna Willow Warriors, the last of the large willows have been removed from the riverbank opposite the Westerway Primary School.
The Clark family have been working with local contractor Aaron Scherer and the Derwent Catchment Project on-ground works team to remove 35 truck loads of willow from the river. The Willow Warriors helped by drilling and filling the willows 2 months prior to removal to avoid living willow material entering the river during machine removal works. Willow stumps have been left in place ensure the banks remain stable as native vegetation is re-established. The Willow Warriors returned on the 29 May to help with the final clean up and planting native trees and shrubs.
The Derwent Catchment Project, Inland Fisheries Service and the Willow Warriors give a massive thanks to the Clark Family for their contribution to the ongoing restoration of the Tyenna River!