Tasmanian Tagged Trout Promotion 2022-23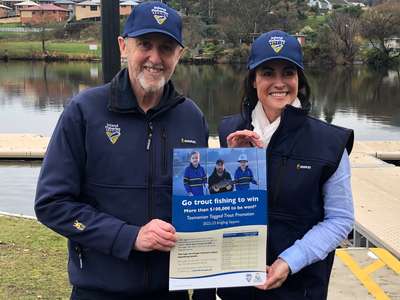 More than $100,000 to be won!
Delivering the Tasmanian Government's Policy Commitment to double the amount of funding for the Tasmanian Tagged Trout Promotion.
Fifty more tagged brown trout will be released into waters around Tasmania for the 2022-23 season. Each tag is worth $2,000 to the angler that returns the fish to the Inland Fisheries Service (conditions apply).
The tags are orange and have unique identifying details.
Fish caught from the 2021-22 Tasmanian Tagged Trout Promotion can also be claimed subject to the Terms and Conditions
The waters and number of tagged trout released are:
| | | | |
| --- | --- | --- | --- |
| Designated water | Number of tagged trout released for 2022-23 | Number of fish remaining from 2021-22 | Total number of fish still to be caught |
| Arthurs Lake | 5 | 5 | 10 |
| Briseis Mine Hole | 2 | 1 | 3 |
| Bronte Lagoon | 2 | 1 | 3 |
| Craigbourne Dam | 2 | 0 | 2 |
| Curries River Reservoir | 2 | 2 | 4 |
| Huntsman Lake | 2 | 1 | 3 |
| Lake Burbury | 5 | 5 | 10 |
| Lake Leake | 3 | 2 | 5 |
| Lake Mackintosh | 5 | 5 | 10 |
| Lake Parangana | 2 | 2 | 4 |
| Lake Pedder | 5 | 5 | 10 |
| Lake Rosebery | 5 | 4 | 9 |
| Lake Rowallan | 2 | 2 | 4 |
| River Derwent | 3 | 2 | 5 |
| yingina / Great Lake | 5 | 5 | 10 |