Miner has lucky strike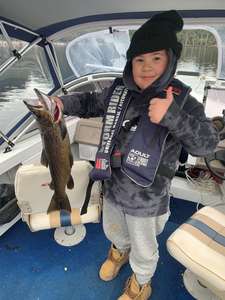 West Coast miner Chris 'Scruff' Blair was trolling pink lures on Lake Mackintosh on Sunday afternoon with his 9 year old grandson Khye when they hooked and landed a nice brown trout. Scruff noticed that it had an orange tag with WINNER stamped on it.
Scruff told Khye that they had caught one of the $2 000 tagged fish but Khye didn't believe him because Scruff was always stirring. They managed to find a spot on the lake with phone reception so called Khye's grandmother who confirmed they might have won from reading the Tasmanian Tagged Trout Promotion details.
On hearing his grandmothers confirmation Khye became very excited. He said "this is the best day ever." On returning home Khye strutted up to his dad and said "If you want to know anything about trout fishing talk to me." His father laughed and Khye replied "I just caught the $2 000 trout" much to his fathers delight.
Scruff and Khye are going to share the prize money. Khye is already working out where they might go to catch another winning tagged trout and a trip to yingina / Great Lake is on the cards soon.
There are still plenty of fish to be caught in the Tasmanian Tagged Trout Promotion.