Big lake - big tagged trout winner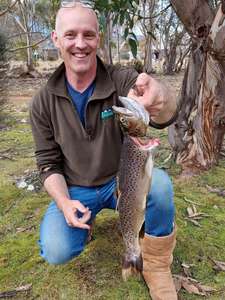 Josh made the most of the recent public holiday by spending the day drift spinning on yingina / Great lake with his mate Luke. With a nice N/NW breeze they were having a good day and had caught 12 trout along the eastern shore. When lucky trout number thirteen was landed they could see that it had a tag. It was a scramble around the boat to find a pair of reading glasses and then they could then see that the orange tag was a WINNER. The wild brown trout was one of the fish released in the Tasmanian Tagged Trout Promotion in 2021 which was still eligible for the $2 000 prize.
Josh noted that the fishing improved as the day went on and the bright sky warmed the cold water. A black and gold minnow proved to be the deadly lure.
Josh has already had a visit to the tackle store and the bottle shop to invest some of the prize money.
For more information about where you can catch a fish and win go to the Tasmanian Tagged Trout Promotion.