Improvements at Arthurs Lake in time for the 2012/13 season.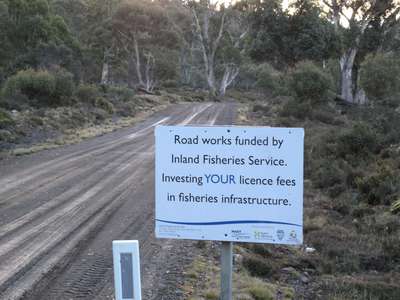 The IFS has completed an upgrade of Gunns Marsh Road from Jonah Bay to the northern end of Cowpaddock Bay. This road has deteriorated over recent years and was becoming a real obstacle for anglers. Due to higher lake levels over the past two seasons the Cowpaddock and Tumbledown bays have become increasingly popular therefore IFS decided an upgrade of the track was warranted.

At Jonah Bay boat ramp, also due to higher lake levels, a buoy has been installed to warn anglers not to back boats onto the submerged walkway in the center of the boat ramp. The high lake level has also restricted space at the ramp for launching and retrieving boats so advisory signs have been installed to remind anglers to have their boats ready for launching before proceeding from the car park to the ramp.