Anglers beware- big trout return to Crescent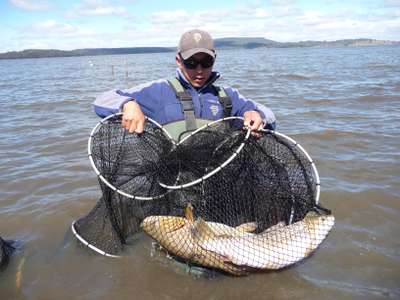 With 3 years of good winter rains and Lake Crescent holding good water levels rumors were about that some large trout have been taken by anglers willing to commit some time and effort to fishing in this lake. Fish in the 5-6kg range have been mentioned.
During recent carp surveys IFS officers captured some of these fish and were impressed with the quality and condition of the brown trout that this lake has to offer. The water quality in the lake has improved markedly although to the naked eye this is not apparent. From the condition of the trout it is obvious that they are not having any difficulty locating food which means finding a lure or big fly that is pulled across their nose shouldn't be a problem. Despite holding a good level of water the lake is still only relatively shallow, at around 4 metres at its deepest when at full supply. The lake tends to heat up over summer so early and late season fishing proving the best.
So for anyone prepared to put in the time to catch a true trophy trout there is no time like the present.