Boat ramp maintenance at Woods Lake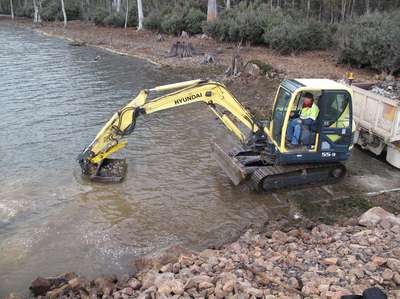 The Woods Lake Boat ramp is currently at the lower limit of its operating range. Towards the end of the season a significant drop off at the end of the ramp was causing issues for boaters.
MAST and IFS have taken the opportunity to conduct maintenance on the break wall, remove some boulders from the toe of the ramp and fill the area with large aggregate. This should ensure the safe operation of the ramp if water level doesn't rise significantly before the opening of the 2015/16 season.
Anglers are advised to make a physical check of the ramp before launching and are requested not to drive boats onto trailers if the lake level stays low as this will scour out the end of the ramp.