Tooms Lake – we're hoping for big things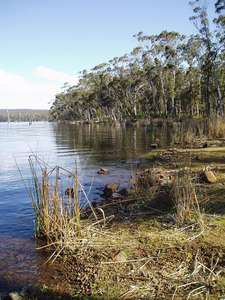 Tooms Lake has gained a reputation as an early season venue.  But if the conditions and water levels are right, angling can be rewarding for the whole season.
Towards the end of last season, stories started to spread about big fish being caught. Fish in the 3-4kg range.  The fish are feeding on the jollytail baitfish (Galaxias maculatus) that have established a landlocked population in the lake. The juvenile galaxias, often seen swimming around in schools, are targets for the hungry trout.  With the lake filling over the winter the fishing should be good this season.
Generally milder conditions at this east coast lake make it a pleasant place to fish.  Particularly when it is cold on the highlands. Tooms Lake forms part of the Tooms Lake Conservation Area managed by the Parks and Wildlife Service. The Northern Midlands Council manages the lakeside village and campground. Tooms Lake provides a regulated water supply for irrigation and drinking water for the Ross township. A good boat ramp allows easy access to the lake. You will find more information about many of our waters in our Angler Access brochures.
Wet and dry fly fishing, trolling, lure casting and set rod bait fishing are successful.  Tooms Lake is open from Saturday 6 August 2016 until Sunday 30 April 2017.  It has a 5 bag limit.  Minimum size is 300mm and only 2 of your 5 fish can be over 500mm.