Inland Fisheries Compliance Update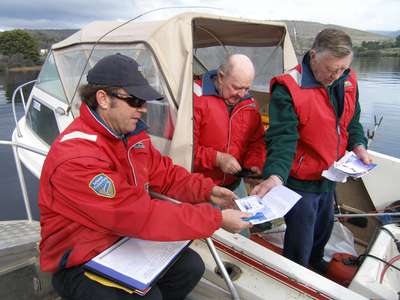 The Inland Fisheries Service has 10 Authorised Fisheries Officers who regularly patrol inland waters throughout the state. Officers check that anglers are complying with the requirements of the Inland Fisheries Act 1995, ensure anglers are appropriately licensed and protect native and sports fisheries. Fisheries Officers also collect important data from anglers regarding creel data, angling effort and other information that helps guide fisheries management and planning. Joint patrols are regularly conducted with other agencies including Tasmania Police and Parks and Wildlife Service.
If you encounter a Fisheries Officer when fishing please be aware they have the power to require evidence of an angling licence and compliance with the regulations relevant to that water. They may also seek information on your days fishing.
Penalties apply to non compliance and Fisheries Officers are able to deal with offences through infringement notices issued on the spot.
Officers are also authorised under the Marine and Safety Act and the Litter Act. Penalties for common offences include:
Fishing without an angling  licence

.

2 penalty units $260
Possess assembled, rod, reel and line without an angling licence

.

2 penalty units $260
Fishing in closed water. 2 penalty units $260
Using fish as bait to take fish in inland waters not subject to tidal movement. 2 penalty units $260
Using bottle, jar, can or similar object to warn of movement in the rod and line. 1 penalty units $130
Taking fish with unattended set rod. 1 penalty unit $130
Fishing with more rods than endorsed on a licence

.

1  penalty unit $130
Fail to wear  Personal Floatation Device (PFD) on a vessel under 6m (when underway)

.

0.5 Penalty units $65.00
Fail to observe speed limit in vessel

.

1 penalty unit $130
The message is clear – do the right thing and enjoy your fishing – the future of this great resource is in your hands.